Denali Training Fund

The Denali Commission has placed job training at the center of its comprehensive plan for economic growth in Alaska. In just a few short years, the commission has made significant strides in assisting rural communities with their workforce development needs. As the commission funds projects for new clinics, roads, and tank farms, it also builds sustainability into those projects by providing training for local residents to construct, maintain and operate the new facilities. A partnership with the Alaska Department of Labor and Workforce Development, Division of Business Partnerships makes this possible through the Denali Training Fund.
The federally funded Denali Training Fund provides job training assistance to residents of rural communities where Denali Commission projects are planned or underway to ensure local residents have the opportunity to learn and to earn an income from the local project. The Denali Training Fund focuses its training resources on developing skills in the construction and transportation industries and for heavy equipment, healthcare, and energy development occupations.
Funding is also available for non-Denali Commission infrastructure projects that lead each rural participant directly to employment. This may include local management training, leadership and capacity building training.
Success Story
The Denali Training Fund Youth Program provided funding to Southeast Alaska Guidance Association (SAGA). SAGA's Young Alaskans Building Affordable Housing Program (YABAH) participants build a single family home in Sitka and work towards getting a high school diploma or GED. YABAH provides 6 to 9 months of work experience, construction training, employability skills, and applied academic training.
Each participant attends workshops on communication skills, problem solving, decision making, program guidelines, team building, conflict resolution, anger management, drug and alcohol abuse, stress reduction and goal setting. These soft skills are reinforced throughout the program with many opportunities to practice and apply what has been learned.
Participants also attend a 2 week pre-construction skills class utilizing training curriculum from the National Center for Construction Education and Research (NCCER). Courses include basic safety, construction math, hand tools, power tools, blueprints and basic rigging.
Each youth will develop skills on the construction site with on-the-job training under the close supervision of YABAH training staff. They will learn and improve their construction skills as they work on all aspects of building a house. Participants work side-by-side with plumbing, electrical and drywall contractors, expanding on the skills learned in the classroom as they build the house.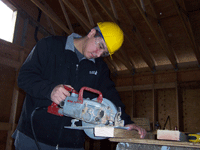 Program participants are from rural communities throughout Southeast Alaska. After receiving their high school diploma or GED they will transition into a full time job or post-secondary training and educational program.
Meet Loren Sands. He is 24 and from Angoon, Alaska. Loren is one of the natural leaders in YABAH. Participants look up to his leadership and his work ethic. He works hard on the job site and at the Career Center. Loren's passions in life are carpentry and music. He wants to pursue a career in carpentry and is now enrolled in University of Alaska Southeast construction classes. Along with furthering his education he has taken on a side project constructing his own music studio in his back yard.
Ben Clark, Program Manager for YABAH, "Loren is an asset to the YABAH program. He volunteers time at local events and organizations and is a great role model for youth in the community."