Alaska Youth First

The Alaska Youth First Program was developed to create career awareness for Alaska's youth ages 14 - 24. By focusing on career awareness and work experience, this program fills the gaps in the workforce system. The Alaska Youth First Program receives a general fund appropriation by the Alaska Legislature to provide the following:
Career Guides
Career Guides are trained professionals working in middle and high schools to create industry awareness in youth and young adults by providing up-to-date information on Alaska's high wage, high demand occupations. Career Guides are available through Alaska Job Centers and school districts.
Youth Employability
In addition to basic skills in the areas of applied math and language arts, youth also need opportunity to develop employability skills including the emotional and work maturity skills necessary for successful employment.


Work Experience
Work experience provides practical on the job training which is critical for youth who are just entering the work force. This may be through an intensive short term work experience, unpaid work experience, or job shadowing experience.
Applied Academic Training
Virtually every high wage, high demand occupation requires that youth be competent in the areas of reading, math, and communication. Applied Academic Training ensures that youth are prepared for apprenticeships and other training opportunities.
Teacher-Industry Externships
Teachers have a significant impact on young people as they select and de-select career choices. Externship experiences allow educators to learn about new career opportunities in Alaskan industries. The knowledge teachers bring back to the classroom helps youth understand how curricula relate to real world experiences like the teacher externships.

School-to-Apprenticeship or Pre-Apprenticeship
These projects link vocational education programs and industry apprenticeship training programs. They are innovative approaches to education and training that allow secondary students to become registered apprentices while completing their education.
Innovation Grants
The Division develops strategies that foster youth employment and completion of educational goals. Applicants are encouraged to train unemployed and undereducated youth for entry level positions in the demand industries of construction, transportation, health care, and gas pipeline construction, operation, and maintenance. The Division looks for strategies that relate academic and applied learning to real world experiences. For example, middle school students who learn how to use a GPS device are better prepared and can apply mapping skills to business and industry issues.
How to Apply for an Alaska Youth First Grant
Youth First generally grants funds out at the beginning of a fiscal year. Occasionally the grants last for more than one year and demonstrate strong partnerships with other organizations and agencies in a community such high school, job centers, employer groups and youth advocates. If you are interested in applying for a grant be prepared to apply in the spring and early summer. The Division announces its Requests for Grant Applications through the state's on-line public notice system. Please check this sight often and make sure you are building community partnerships that support youth employment.

To check for available grants use this link.
What to Emphasize When Applying For a Grant
Commitment to success
A strong emphasis should be placed on leadership development, community service, and the creation of a positive partnership with youth initiative supporters who are committed to the success and future sustainability of youth programs.
New media
Successful grantees will be encouraged to use communication strategies familiar to youth, such as social networking and multimedia.
Youth culture
Program development will focus on innovatively linking youth culture with the needs of business and industry. Entrepreneurial experiences will be explored as well as more traditional employment.
Uniqueness
Innovative projects may focus on new methods of providing outreach, unique services, and serving non-traditional target populations such as youth younger than 14, or providing new strategies for increasing positive outcomes or success rates for youth entering postsecondary training or employment. Innovative strategies also focus on new technologies and new methodologies in industry. Often young people are the first to gravitate to new technology and methods. Describe in your proposal how young people will learn through new processes, technologies or methodologies.
Values
Today's workplace values are very clear. Business and Industry has high expectations of the people they hire. Young people should learn about the consequences of inappropriate behavior at the workplace. Grant applications should address issues of substance abuse, harassment and the need for a positive attitude.
Success Story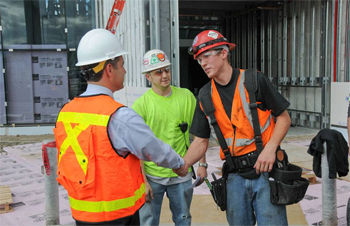 Outstanding Apprentice
Governor Parnell (left) meets Spencer Ruhl (right) who was named "outstanding" apprentice as part of the school-to-apprenticeship program through the Alaska Department of Labor and Workforce Development's Youth Hiring Center at the Anchorage School District's King Career Center. Through the school-to-apprentice program, Ruhl earned direct entry into the International Brotherhood of Electrical Workers. He currently works for City Electric, which is performing electrical work at the new VA Clinic and Regional Office Building off Muldoon Road in Northeast Anchorage.