DVR Newsletter - June, 2019 Issue
The Division of Vocational Rehabilitation's latest initiatives and activities.
Subscribe to future DVR Newsletters
Director's Update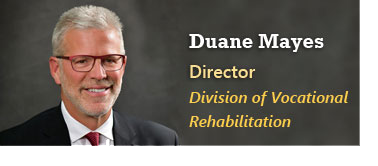 Good day everyone,
As the Division Director for the Alaska Division of Vocational Rehabilitation (DVR) within the Department of Labor and Workforce Development DOLWD, I am clear that our job is to assist Alaskans with disabilities to obtain and maintain competitive and integrated employment. Through that effort, I believe we align well with the Council on State Administrators for Vocational Rehabilitation (CSAVR) at the national level by investing in America. As our CEO from CSAVR states, "by traversing the issues of disability, workforce development, career readiness and competitive and integrated employment, vocational rehabilitation produces significant, and multiple returns on investment for our nation." Going forward, we are committed to strengthening these yields by:
Innovation solutions

Building careers and retaining talent

Customizing services and expertise

Leading and engaging in collaborative strategies
Engaging Business
I have been impressed with our Division's efforts to engage businesses. The Business Engagement Services Team (BEST) and Job X are examples of models that work in this state. Our state of the art assessment units, following the Tier I, II, & III approach, exemplifies innovative efforts to help consumers identify the right career that is long-lasting.
Serving Students with Disabilities
Our efforts and success around pre-employment transition services, exposing students with disabilities in Alaska to the world of work, is like no other. In my recent attendance at the Council on State Administrators for Vocational Rehabilitation, it became abundantly clear in talking to other state DVR programs that we are not taking a back seat. In fact, I believe we need to do more to discuss our successes at the national level and to our federal partner, Rehabilitation Services Administration.
In Alaska, DVR is aligning with the Department of Labor and Workforce Development to take full advantage of internal resources and align with Governor Dunleavy's statement, "Alaska is open for business." The Alaska Vocational Technical Center (AVTEC) in Seward promotes and expands employment opportunities by preparing students with career and technical skills required for success in the Alaska workplace. AVTEC is celebrating 50 years of training Alaskans this fall.
"To help prepare our students for a successful future, no matter what career they pursue, they need to learn basic computer programming skills," said Department of Education and Early Development Commissioner, Dr. Michael Johnson, "Learning to code unlocks creativity, strengthens problem-solving skills, and builds confidence. With today's technology, learning to code offers countless opportunities, including cultural preservation and communication."
"The Department of Labor and Workforce Development is excited to work with industry leaders to prepare and connect Alaskans with viable employment," said DOLWD Commissioner, Dr. Tamika L. Ledbetter, "Coding is a skill that can lead to employment opportunities in remote programming, cyber security, cultural preservation, and much more – all jobs that can be based in a rural community or performed remotely. This will allow Alaskans to remain in their local community while growing our state's workforce. I am eager to partner with Alaska's families, school districts, tribes, and educational organizations to promote the importance of coding in our classrooms."
Apprenticeship Program
Other important initiatives within DOLWD is our registered apprenticeship program, helping more than 225,000 employers across the country reducing employee training costs, increase employee knowledge and loyalty, as well as keeping pace with advancing technology. Check out the Apprenticeship Program website.
Serving Seniors
On a final note, it is clear that we have a workforce that is aging and many seniors are living longer and want to work. The Mature Alaskans Seeking Skills Training (MASST) federally known as the Senior Community Service Employment Program (SCSEP) or may be cited as the "Community Service Senior Opportunities Act" is a program within DOLWD that works closely with Alaska DVR to find employment for Alaskan Seniors with disabilities. The intent of this program is to place older individuals in community service positions and provide job training to help them become self-sufficient, provide much needed support to organizations that benefit from increased civic engagement, and strengthen the communities that are served by such organizations. This program helps Alaska retain the valuable resources of older workers while enabling this population to maintain an independent lifestyle and make meaningful contributions to their communities.
I am honored to work with great leaders in DOLWD and DVR and I look forward to making a difference and living by my motto of making a difference, one Alaskan at a time.

Students Go Hands-On to Explore Careers in High-Demand Fields
By Jim Kreatschman, DVR Transition Specialist
This spring, 65 students from southeast Alaska participated in the Explore program. The Explore program is a hands-on career exploration opportunity in the high-demand fields of Construction, Power Technology, and Healthcare. Every student had the opportunity to explore two career fields over the course of the 4-day program.
Exploring Construction
Exploring Power Technology
Exploring Healthcare
Quality Instructors
Students Gain Experience and a Tuition Waiver
What's Next
Learn More
Hiring Qualified Employees is Hard, Let DVR BEST Help You
By Cindy Murphy-Fox, DVR Assistant Chief; and Pik-ha Soo, DVR Training Specialist. Photos by Pik-ha Soo.
Disability-related technologies that let employees be more effective,
Smart ways to provide reasonable accommodations,
On-the-job evaluation and situational assessment,
Tax credits and other hiring incentives.
DVR BEST has Strong Partnerships with Businesses Throughout Alaska
The Importance of Our Tribal Partners
By Jason Caputo, DVR Communications Lead
Alaska is fortunate to have ten Federally funded American Indian Vocational Rehabilitation Services (AIVRS) programs (also known as Tribal Vocational Programs or TVR) funded under Section 121 of the Rehabilitation Act of 1978, as Amended, who serve Alaska Natives and American Indians with disabilities living in Alaska.
There are approximately 103,000* Alaska Natives residing in Alaska, which is 14-percent of Alaska's population. The majority of these individuals live in remote and rural communities such as Dillingham, Bethel, and Nome.** There are many different types of Alaska Natives, each of which has its own culture and unique characteristics, including different languages and traditions.
AIVRS/TVR programs are vital partners to the Division of Vocational Rehabilitation (DVR). They help DVR serve Alaska Natives who are in remote and rural locations in a culturally sensitive manner. During FFY 2018, the SVRC was fortunate to have AIVRS Directors from Kawerak, Central Council of the Tlingit and Haida Indian Tribes of Alaska (CCTHITA), and the Kodiak Area Native Association (KANA), share their perspectives on serving Alaska Native individuals with disabilities in their different respective regions.
The Kawerak and KANA Directors also presented to DVR's Rural Services Counseling Team, which focuses on delivering and improving services to Alaska Native individuals living in remote and rural Alaska. In SYF18, 27-percent of the individuals served by DVR identified as Alaska Native, which is a direct result of the continuous improvement in service delivery that DVR has made because of its partnerships with AIVRS/ TVR programs.
* U.S. Census Bureau, 2012-2016 American Community Survey 5-Year Estimates
** 2013 study by the Alaska Department of Labor and Workforce Development

Alice Foley Joins DVR as New Administrative Operations Manager
Background
A Little More About Alice