MAT-SU JOB FAIR ATTRACTS THOUSANDS
Labor Specialists Treat Businesses to Morning "Wake-Up" Program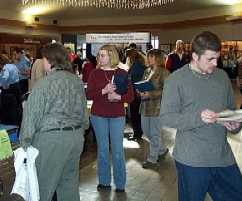 On what may have been a regular work day for many Alaskans, thousands of job seekers made their way to the Cottonwood Creek Mall in Wasilla on Thursday, April 26 for the first annual Mat-Su Job Fair. The Alaska Job Center Network's Mat-Su Job Center and their Employer Committee sponsored the fair attracting 2,500 people, including 39 organizations ranging from small to large businesses, and non-profit and government agencies who were there to recruit workers or provide information about services.

"We provided the chance for job seekers and employers to meet and an opportunity for the community to become aware of the Mat-Su Job Center services that are offered here in the Valley," said Barb Moscibrocki, manager of the Mat-Su Job Center. "The Job Center Employer Committee put in a lot of hard work setting this up – they were the backbone behind this successful event."

Business representatives were treated to a morning "Wake-Up Program," with Randy Carr, chief of labor standards at the Alaska Wage and Hour office, and labor economist Neil Fried. Carr gave the audience answers, in layman's terms, to any and all wage and hour questions. Fried provided businesses with an economic overview and comparative analysis of the Mat-Su region and Alaska's latest economic and employment trends. Wasilla radio station KMBQ provided local, live coverage, while M.A.S.C.O.T bus lines provided free rides to and from the job fair.

"Our expectations were vastly exceeded," said Heidi Frost, a coordinator of the event. "Participation by both the local business community and job seekers was fabulous."

The majority of job seekers were from Wasilla, Palmer and Big Lake, according to a follow up survey, while others came from Willow, Point McKenzie, Sutton, Eagle River, and Anchorage. Most were unemployed, looking for full time work in the Wasilla/Palmer/Big Lake area. Participating employers included Valley Hospital, Tesoro, Seed-N-Tree and Outdoors and More. Along with businesses, many other organizations were looking for employees including the Anchorage Police Department, Palmer Senior Center and the Mat-Su School District.

The Alaska Job Center Network is a "one-stop" partnership of local, non-profit and State of Alaska agencies located throughout Alaska in easy to reach sites. The aim is to make it easier for workers to find their first, next and best job, get training, or change careers, while matching workers to employer job openings.

The Mat-Su Job Center provides an array of employment, training, educational and social services for job seekers, including vocational counseling, job development and referral, adult basic education classes, job skills training and welfare to work assistance. People needing help creating a resume or any other last minute tips were able to get them at the Job Center, which remained open for the duration of the job fair.

For employers, the Job Center provides posting of job openings on the Internet, job matching, and information on hiring, human resource management, plus coordination of mass recruitment and hiring events, at no charge. Last year the center posted over 1,400 jobs for Mat-Su area employers. Currently the center averages 120 to 140 job openings per week.

The Alaska Job Center Network regularly hosts job fairs throughout the state each year, attracting thousands of job seekers and employers and providing them the opportunity to meet face to face.