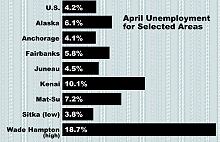 Alaska's statewide unemployment rate moved lower in April, dropping six-tenths of a percentage point to 6.1%. Nearly 19,700 Alaskans were unemployed in April, which was a decline of almost 2,000 from March. Rachel Baker, a labor economist with the Alaska Department of Labor and Workforce Development, reported the drop. Last April, the statewide unemployment rate was 7.3% and 22,800 Alaskans were unemployed. The comparable national unemployment rate in April was 4.2%.

The urban areas of Alaska led the way in April's jobless statistics. Anchorage, Fairbanks, and Juneau all had unemployment rates below the statewide average. Unemployment rates fell in these areas of Alaska as employers geared up for the construction and tourism seasons. The Bristol Bay Borough and the Skagway-Hoonah-Angoon Census Area also posted significant over-the-month drops in unemployment rates.
There were a few exceptions to the trend of lower unemployment rates in April. These included the Kodiak Island and North Slope boroughs, the Valdez-Cordova Census Area, and most areas of southwest Alaska. An employment slowdown related to the winter fisheries was the prime cause of higher unemployment in Kodiak and portions of southwest Alaska. The lowest unemployment rate in the state was the Sitka Borough at 3.8%. The 18.7% rate recorded in the Wade Hampton Census Area was the state's highest unemployment rate in April. While Alaska's most populous areas experienced relatively low unemployment rates, many areas of rural Alaska continued to post fairly high rates. Of the twenty-seven geographic areas where unemployment is measured, twelve had unemployment rates in excess of ten percent.

An increase of 4,200 wage and salary jobs accompanied April's statewide unemployment rate decline. Employment gains were broadly based, with retailers, service providers, construction firms, and the transportation industry all contributing to job growth. State and local government employment also increased over the year, and combined, have added 1,200 jobs since last April. Manufacturing was the only sector to post job losses over the month. These losses were primarily in southwestern Alaska as seafood processors geared back from the winter fishery. April was also a difficult month for the lumber and wood products industry. A court order resulting in the halt of logging activity on the Tongass National Forest forestalled the normal seasonal increase in logging employment.