Unemployment Steady at 5.0 Percent in August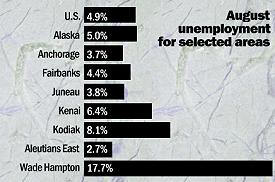 Alaska's unemployment rate for August was unchanged over the month, holding at 5.0%. The unemployed numbered 16,639 in August, down slightly from 17,032 in July. The comparable national unemployment rate for August was 4.9%.

August's unemployment rate is slightly higher than in August 2000, but it is still low relative to historic levels. Only three times since 1978 has the state had a lower unemployment rate in August. According to Dan Robinson, a labor economist with the Alaska Department of Labor and Workforce Development, the rising national unemployment rate may soon have an effect on Alaska's labor force. "Layoffs and higher unemployment in the Lower 48 may bring more job seekers to Alaska and make migration out of the state less attractive than it has been in recent years. Both factors would ease what has been a very tight labor market in the state."

Most changes in regional unemployment numbers were small. The Anchorage/MatSu region's unemployment rate was unchanged at 4.1%. The Gulf Coast region's rate increased three tenths of a percentage point to 6.4%. The Interior, Northern and Southeast regions all had slightly lower unemployment rates for the month.

Kodiak saw a big increase, jumping from 4.5% in July to 8.1% in August. Such dramatic swings are not unusual for Kodiak, due to the fluctuations inherent in the fishing industry. As further illustration, July's rate of 4.5% was a drop of over 5 percentage points from the previous month's rate of 9.7%.

The Wade Hampton Census Area recorded the month's highest rate at 17.7%, up from last month's rate of 17.4%. The Nome, Yukon-Koyukuk, and Prince of Wales-Outer Ketchikan census areas all saw decreases in their unemployment rates. At 2.7%, the Aleutians East Borough had the state's lowest rate for the month.

Wage and salary employment grew by about 1,200 jobs over the month and is up by 1.8% over the year. The construction industry led the way, adding more than 800 jobs.
Labor Force by Region and Census Area

Labor Force
Unemployment
Rate
Employment
08-01
07-01
08-00
08-01
07-01
08-00
08-01
07-01
08-00
08-01
07-01
08-00
Alaska Statewide .........
336,013
339,594
329,554
16,639
17,032
15,873
5
5
4.8
319,374
322,562
313,681
Anch.-MatSu Region
180,478
181,098
176,326
7,321
7,435
7,303
4.1
4.1
4.1
173,157
173,663
169,023
Municipality of Anchorage
145,915
147,274
143,471
5,351
5,388
5,428
3.7
3.7
3.8
140,564
141,886
138,043
MatSu Bor. ..............
34,563
33,824
32,855
1,970
2,047
1,875
5.7
6.1
5.7
32,593
31,777
30,980
Gulf Coast Region ........
36,744
37,493
36,185
2,365
2,273
1,993
6.4
6.1
5.5
34,379
35,220
34,192
Kenai Peninsula Bor. ....
23,533
24,197
23,377
1,495
1,620
1,459
6.4
6.7
6.2
22,038
22,577
21,918
Kodiak Island Bor. ......
7,760
7,653
7,382
626
345
287
8.1
4.5
3.9
7,134
7,308
7,095
Valdez-Cordova ..........
5,451
5,643
5,426
244
308
247
4.5
5.5
4.6
5,207
5,335
5,179
Interior Region ..........
51,055
52,089
50,454
2,475
2,623
2,461
4.8
5
4.9
48,580
49,466
47,993
Denali Bor. .............
1,153
1,174
1,129
48
48
37
4.2
4.1
3.3
1,105
1,126
1,092
Fairbanks North Star Bor.
45,140
46,015
44,592
2,006
2,095
1,980
4.4
4.6
4.4
43,134
43,920
42,612
Southeast Fairbanks .....
2,647
2,687
2,629
212
207
223
8
7.7
8.5
2,435
2,480
2,406
Yukon-Koyukuk ...........
2,115
2,214
2,104
209
273
221
9.9
12.3
10.5
1,906
1,941
1,883
Northern Region ..........
8,984
9,127
8,611
983
1,026
925
10.9
11.2
10.7
8,001
8,101
7,686
Nome ....................
3,380
3,451
3,231
380
414
349
11.2
12
10.8
3,000
3,037
2,882
North Slope Bor. ........
3,369
3,419
3,304
278
290
335
8.3
8.5
10.1
3,091
3,129
2,969
Northwest Arctic Bor. ...
2,236
2,256
2,076
326
322
241
14.6
14.3
11.6
1,910
1,934
1,835
Southeast Region .........
42,812
43,099
42,498
1,952
2,080
1,868
4.6
4.8
4.4
40,860
41,019
40,630
Haines Bor. .............
1,295
1,302
1,259
61
63
32
4.7
4.8
2.5
1,234
1,239
1,227
Juneau Bor. .............
18,823
18,910
18,713
715
731
707
3.8
3.9
3.8
18,108
18,179
18,006
Ketchikan Gateway Bor. ..
8,294
8,292
8,174
452
420
376
5.4
5.1
4.6
7,842
7,872
7,798
Pr. of Wales-Outer Ketch
3,340
3,400
3,389
248
296
314
7.4
8.7
9.3
3,092
3,104
3,075
Sitka Bor. ..............
4,705
4,754
4,693
153
184
166
3.3
3.9
3.5
4,552
4,570
4,527
Skagway-Hoonah-Angoon ...
2,267
2,294
2,220
130
149
95
5.7
6.5
4.3
2,137
2,145
2,125
Wrangell-Petersburg .....
3,745
3,805
3,724
158
204
157
4.2
5.4
4.2
3,587
3,601
3,567
Yakutat Bor. ............
342
342
326
35
34
21
10.2
9.9
6.4
307
308
305
Southwest Region .........
15,939
16,688
15,481
1,542
1,595
1,324
9.7
9.6
8.6
14,397
15,093
14,157
Aleutians East Bor. .....
1,615
1,700
1,575
44
53
30
2.7
3.1
1.9
1,571
1,647
1,545
Aleutians West ..........
2,101
2,236
2,054
118
157
104
5.6
7
5.1
1,983
2,079
1,950
Bethel ..................
6,776
7,092
6,560
720
743
605
10.6
10.5
9.2
6,056
6,349
5,955
Bristol Bay Bor. ........
513
526
500
36
26
31
7
4.9
6.2
477
500
469
Dillingham ..............
1,903
1,975
1,818
148
135
92
7.8
6.8
5.1
1,755
1,840
1,726
Lake & Peninsula Bor. ...
644
667
637
53
48
56
8.2
7.2
8.8
591
619
581
Wade Hampton ............
2,386
2,492
2,338
422
433
407
17.7
17.4
17.4
1,964
2,059
1,931