Programs, Partners and Strategies
The Division partners with Alaska's business and industry to share the responsibility of developing a workforce. All training financed with Division resources will lead to a job and all workforce development programs supported must show sustainability through performance.
Division core services include:
Attracting resources and investments for workforce development
Designing workforce development programs and strategies through public/private partnerships
Verifying industry needs and labor shortages, and directing resources that result in participant employment
Administering federal and state workforce training initiatives that result in a skilled Alaskan labor force
Expanding the capacity of the workforce development system by supporting regional training centers, and advancing career and technical education
Measuring returns on investment, using performance data to build demand driven employment and training programs.
Each of the Division's workforce development programs and strategies aligns with the priority industries and occupations endorsed by the Alaska Workforce Investment Board, including: Health Care, Construction, Information Technology, Education, Transportation, Natural Resource Development (oil, gas, and mining), Hospitality and Tourism, and Seafood.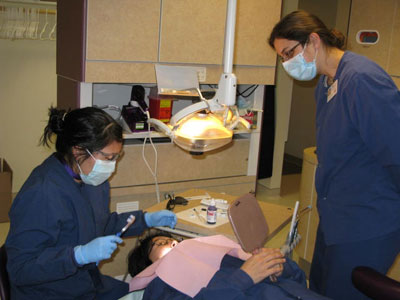 Alaska Native Tribal Health Consortium (ANTHC) in partnership with the Denali Training Fund provided job training and funding for rural dental health aide therapists. Student Phylicia Wilde receives oral hygiene instruction from Dr. Sarah Shoffstall.