Alaska Unemployment Declines Further in April
April Statewide Jobless Rate 6.6%
Alaska's statewide unemployment moved lower in April, dropping three-tenths of a percentage point to 6.6%. The decline in unemployment placed April's rate as the second-lowest statewide unemployment rate for April since 1978. Almost 20,900 Alaskans were unemployed in April, nearly 900 fewer than in March. John Boucher, a labor economist with the Alaska Department of Labor and Workforce Development, reported the drop. Last April, Alaska's unemployment rate was 6.7% and there were 20,600 unemployed Alaskans.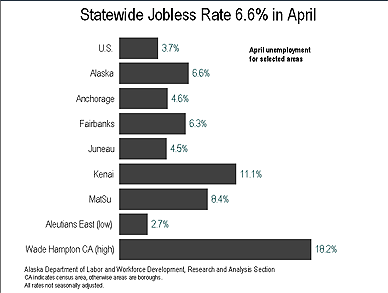 The comparable national unemployment rate (civilian not seasonally adjusted) in April was 3.7%. On a seasonally adjusted basis, the national unemployment rate was 3.9%; this was the first time in over three decades that the national rate dipped below the four-percent mark. January 1970 was the last time the nation's unemployment rate was that low.
Alaska's urban areas led the way in April's jobless statistics. Anchorage, Fairbanks, and Juneau all had unemployment rates below the statewide average, while the Kenai and Matanuska-Susitna Boroughs both posted drops in their unemployment rates. Unemployment rates fell as urban areas of Alaska began gearing up for the construction and tourism seasons. "Construction, manufacturing and transportation led a drop of more than seven percent in unemployment insurance weeks claimed compared to March," Boucher said.
While Alaska's most populous areas experienced relatively low unemployment rates, rural Alaska continued to show high rates of unemployment. Of the twenty-seven geographic areas where unemployment is measured, thirteen had unemployment rates in excess of ten percent. The highest unemployment rates in the state were in the Wade Hampton census area at 18.2% and the Yukon-Koyukuk census area at 17.3%. The lowest rate was in the Aleutians East Borough at 2.7%.
Accompanying April's decline in unemployment was a statewide increase of 6,200 wage and salary jobs. Every major sector of Alaska's economy except mining added jobs last month. Seasonal gains in construction, trade, services and transportation characterized the state's job growth in April. Manufacturing employment got an unusual surge in seafood processing employment as the delayed opilio crab harvest began. Services' industry job growth was broad-based while trade's was largely additional jobs in eating and drinking places. Federal government employment dropped from March's unusually high level. This was attributed to a decline in the temporary federal workforce added for the 2000 Census.