Alaska Unemployment Drops to 6.1% in May
Alaska's statewide unemployment rate moved down one-half of one percentage point in May, falling to 6.1%, the second lowest rate for the month of May in more than 20 years. The 6.1% rate meant that just over 19,000 Alaskans were unemployed in May, nearly 1,300 fewer than reported in April. John Boucher, a labor economist with the Alaska Department of Labor and Workforce Development, reported the declining rate. May's unemployment statistics continued a recent trend of unemployment rates that are well below last year's levels. Last May, Alaska's unemployment rate was 6.7%, and more than 21,000 Alaskans were unemployed. This May, 5,000 more Alaskans were employed than a year ago. Alaska's unemployment rate remains above the national unemployment rate. The U.S. civilian, not seasonally adjusted, unemployment rate in May was 3.9%.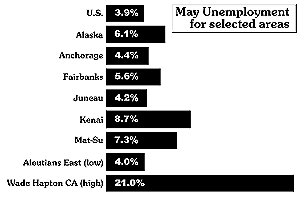 Regionally, unemployment was mixed. Four of the state's six regions showed unemployment drops, while the Northern Region and Southwest Alaska posted higher unemployment rates. "The beginning of the peak visitor season and a vigorous construction industry brightened the state's unemployment picture," Boucher commented. "Most of urban Alaska geared up for the tourism season and another solid construction season."
The Kodiak Island Borough, Southwestern Alaska and Northern Alaska were exceptions to the trend of dropping unemployment rates. A slowdown in employment related to the winter fisheries caused higher unemployment in Kodiak and Southwest Alaska. The end of the winter oil drilling and construction season was a major cause of increased unemployment in Northern Alaska. The highest unemployment rate in Alaska was in the Wade Hampton Census Area at 21.0%, while the lowest was in the Aleutians East Borough at 4.0%.
Wage and salary employment statistics helped explain the sharp drop in the unemployment rate. There were 11,000 more wage and salary jobs available in the state than in April. Retail trade, tourist-related services, construction and the transportation industry contributed most of the job growth. Manufacturing employment losses were restricted to Southwestern Alaska and Kodiak, where seafood processing plants geared down after the winter fisheries. Federal government employment gains related to temporary workers hired for the 2000 Census accounted for most of the government employment gains seen from April to May.