June Statewide Jobless Rate 6.0%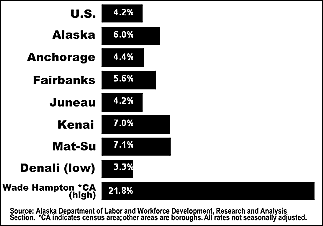 Alaska's statewide unemployment rate dropped one-tenth of a percentage point in June to 6.0%. The number of unemployed Alaskans increased slightly to more than 19,900, 350 more than in May, but the increase in the number of employed persons was more than enough to offset the increase in the number of unemployed. John Boucher, a labor economist with the Alaska Department of Labor and Workforce Development, reported the June unemployment data. The statewide jobless rate remained below last year's level and was the second-lowest rate posted for June in the last 20 years. In June 1999, the statewide unemployment rate was 6.5% and 20,900 Alaskans were unemployed. The comparable national unemployment rate in June was 4.2% (civilian not seasonally adjusted).
Many areas of Alaska saw relatively small changes in unemployment in June. Those that experienced sharper drops in unemployment tended to be areas dependent on fishing and/or tourism for summer job generation. Some of Alaska's coastal areas either posted low rates or showed improvement. Kodiak was one exception to this trend, though, and saw its unemployment rate increase from 8.8% to 12.3% due to less fishing activity. The Denali Borough, where unemployment dropped from 5.9% to 3.3% over the month, is a good example of an area rate positively influenced by the visitor industry. The Denali Borough also posted the lowest unemployment rate in the state in June. The highest rate was in the Wade Hampton Census Area, which had an unemployment rate of 21.8%.
Accompanying the drop in Alaska's jobless rate, 7,600 wage and salary jobs were added to the state's economy in June. "The biggest contributor to the June job increase was Alaska's visitor industry," Boucher said. "Hotels and lodges, retailers, passenger transportation firms and amusement and recreation services all added employees in June." Most of the rest of the job gains were accounted for by increased construction activity or seafood processors gearing up for the peak salmon processing season.
Except for a drop in federal government employment associated with the census, most job losses in June were related to the beginning of the summer vacation period for schools. Local government employment dropped 2,700 jobs from May to June as seasonal employees of local school districts were let go, and state government employment posted a drop of 1,600 jobs, most of it related to the University of Alaska.