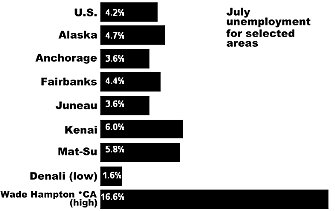 Alaska's unemployment rate fell one and three-tenths percentage points in the month of July, and in the process tied a record low for the month. The 4.7% rate posted in July equaled July 1998's rate, which was the lowest rate posted for that month since 1978. (Unemployment rates calculated prior to 1978 are not strictly comparable due to method changes.)
Brigitta Windisch-Cole, a labor economist with the Alaska Department of Labor and Workforce Development, reported the record-tying low. "Alaska's fishing, visitor and construction industries combined to add 7,900 wage and salary jobs in July," Windisch-Cole said. "These additional jobs were the most significant factor contributing to the drop in the jobless rate." The comparable national unemployment rate (civilian not seasonally adjusted) in July was 4.2%.
Regionally, communities with ties to Alaska's fishing industry showed the biggest improvement in unemployment in July. Kodiak, the Dillingham Census Area, Lake and Peninsula, and Bristol Bay boroughs showed some of the largest improvements in unemployment compared to June. The lowest unemployment rate in Alaska was posted in the Aleutians East Borough at 1.6% while the highest rate was in the Wade Hampton Census Area at 16.6%.
Wage and salary employment statistics point to some of the reasons job seekers found it easier to locate work in July. "Every industry except the public sector had more jobs available in July than in June," Windisch-Cole said. "The construction, transportation, mining and tourism-related industries were significant job gainers in July."
The biggest source of additional employment was Alaska's seafood processing industry, which added more than 6,800 jobs in response to the peak salmon processing season. However, in comparison to other Julys, the seafood processing industry posted the second-lowest number of jobs since 1989.
The drop in government employment was education-related as local school districts dropped seasonal staff from their payrolls for the summer vacation.