Alaska Unemployment Continues Long Decline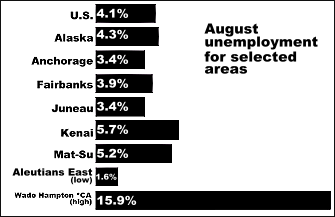 Alaska's unemployment rate fell to 4.3% in August. This is the sixth straight month of declines in the jobless rate. August's rate is also the second lowest since 1978. These unemployment figures continue to attest to a tight job market in Alaska—not unlike most of the rest of the nation. The comparable national rate (civilian not seasonally adjusted) was 4.1% in August. John Boucher, a labor economist with the Alaska Department of Labor and Workforce Development, reported August's data.

August's 4.3% statewide rate meant that just over 14,200 Alaskans were jobless, about 1,300 fewer than in July and approximately 1,000 fewer than in August of 1999. Only in 1998 was the number of unemployed for the month of August smaller—by approximately 400.

Nearly every region and area in the state enjoyed lower jobless rates in August. With seasonal industries such as fishing, tourism, and construction at or near peak activity in August, it was not surprising that nearly every region and area in the state enjoyed lower jobless rates. Most areas also recorded lower jobless levels than a year-ago. Some exceptions were noted. In Southeast Alaska, the Yakutat Borough and Prince of Wales-Outer Ketchikan had higher unemployment this August compared to August 1999. Bristol Bay and Lake and Peninsula Boroughs' unemployment rates also came in higher than year-ago levels.

While unemployment was below average in most areas of the state, there are places in rural Alaska that are still experiencing unemployment rates above ten percent. These include Nome, Northwest Arctic Borough and Wade Hampton, which recorded the highest unemployment rate in August at 15.9%.

Wage and salary employment was nearly unchanged from July. Most industries gained jobs in August but losses in seafood processing were large enough to cause total employment to fall slightly. This is not unusual for August, since seafood processing employment typically peaks in July, coinciding with the salmon harvest in western Alaska. Over-the-year growth in wage and salary employment was strongest in Fairbanks, Anchorage and the Northern region. A rebound in oil industry activity is giving the Northern region an employment boost

.