Alaska Unemployment Edges Upward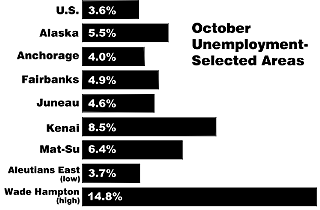 Alaska's statewide unemployment rate increased nearly one-half of one percentage point from 5.0% in September to 5.5% in October. More than 17,700 Alaskans were unemployed in October, an increase of nearly 1,700 from September. In October, 1999, the unemployment rate was 5.7% and the number of jobless Alaskans was near 17,900. The comparable national unemployment rate (civilian not seasonally adjusted) in October was 3.6%. John Boucher, a labor economist with the Alaska Department of Labor and Workforce Development, reported the increase.
The unemployment rate in most areas of the state moved in concert with the statewide unemployment rate, but rural Alaska generally experienced larger increases. "Rural Alaska tends to rely on seasonal industries such as fishing and tourism for employment opportunities," Boucher said. "When summer ends, it generally means higher unemployment rates in rural Alaska."
The most dramatic changes in unemployment rates in October were in boroughs where the visitor and/or fishing industries play key roles. "The Denali Borough's unemployment rate increased from 4.6% in September to 9.9% in October, as visitor activity around Denali National Park shut down for the winter," Boucher said. In the Haines Borough the unemployment rate more than doubled, increasing from 3.1% in September to 7.4% in October as seafood processing and tourism-related activity slowed. The lowest unemployment rate in the state was in the Aleutians East Borough at 3.7%, and the state's highest unemployment rate was 14.8% in the Wade Hampton Census Area.
Alaska's wage and salary job count began a broad, steep, seasonal decline in October. Over-the-month job losses totaled 11,700. With the exception of government and the finance sector, all of the state's major industries lost ground in October. The seafood processing industry led October's job loss, followed by tourism-related jobs at hotels, eating and drinking establishments, and transportation firms. The construction industry's job count dwindled as road-building activity slowed with the onset of colder weather. Government's employment numbers increased slightly because the public education sector continued staffing up for the school year.