Alaska Unemployment Inches Up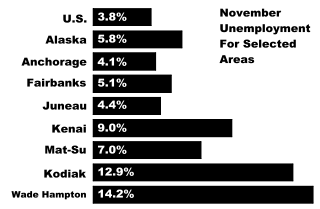 Alaska's statewide unemployment rate increased three-tenths of a percentage point in November to 5.8%. The higher rate meant that more than 18,400 Alaskans were unemployed during November, an increase of about 700 from October. In November of 1999 the jobless numbers were very similar, with 18,600 Alaskans unemployed and a statewide unemployment rate of 5.9%. The comparable national unemployment rate (civilian not seasonally adjusted) in November was 3.8%. Neal Fried, a labor economist with the Alaska Department of Labor and Workforce Development, reported the increase.
A slight increase in the November unemployment rate is typical as the economy continues its seasonal decline and employment drops. Despite the rising statewide unemployment rate, several areas still enjoy low jobless rates. Unemployment rates in Fairbanks, Anchorage, Sitka, Juneau, and the Aleutians East Borough were below the statewide rate. With the exception of the Aleutians East Borough, all of these area economies are much less susceptible to seasonal swings than some rural areas in the state. Ten areas had unemployment rates in the double digits, including the Kodiak and Denali boroughs and the Wade Hampton Census Area.
In November, wage and salary employment was running 4,700 above the November 1999 level. The job gains were in the services, oil, retail, transportation and construction industries. The only sectors with fewer jobs this year were finance, seafood processing and timber.
Wage and salary employment showed a broad seasonal downturn in nearly all industries, with a loss of 8,000 jobs from October. The biggest losses came in the construction, hotel, and seafood processing industries. One of the few areas that enjoyed employment gains were segments of retail trade that added staff for the holiday season. And with the record high Permanent Fund Dividend check, Alaska's retailers should enjoy healthy holiday sales in 2000.