February jobs up 0.4 percent; it's too early for data to show coronavirus disruptions
March 27, 2020
No. 20-07
JUNEAU, Alaska — Alaska's job count was up 0.4 percent in February from February 2019, an increase of 1,300. The state's seasonally adjusted unemployment rate fell two-tenths of a percentage point, to 5.8 percent. The comparable U.S rate remained at 3.6 percent.
None of the February numbers capture the impact of the evolving coronavirus pandemic because the state and national economies had not yet been affected. Some initial economic disruption will be visible in the March data, which will be released April 17, but larger impacts will show up starting with April data.
The April issue of Alaska Economic Trends, which will be published next week, will address coronavirus-related economic disruptions.
As of February, Alaska continued to add jobs. Growth was widespread in the private sector, with only information and manufacturing reporting losses. In Alaska, manufacturing is primarily seafood processing, and job numbers can vary considerably by month and year.

Most industries added jobs, with the strongest gains in oil and gas (500 jobs), health care (500)  and construction (400). Employment fell in state and local government, while federal government added 100 jobs, primarily due to the 2020 Census. Regional job growth was strongest in the Northern Region, primarily connected to oil and gas.
View data tables and charts (PDF)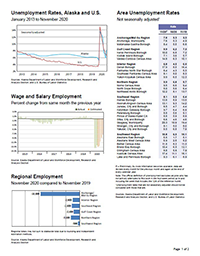 ###