Pandemic causes 10.8 percent job loss in June
July 17, 2020
No. 20-26
JUNEAU, Alaska — Alaska's June job count was down 10.8 percent from last June, a loss of 37,700 jobs. The state's seasonally adjusted unemployment rate declined to 12.4 percent in June from a revised rate of 12.7 percent in May. The comparable U.S rate decreased from 13.3 percent to 11.1 percent.
COVID-19 continued to disrupt businesses across the state, especially gathering places such as bars and restaurants. Halted summer tourism cut employment in a variety of sectors, including leisure and hospitality, transportation and retail. Although Alaska still has some visitors, cruise travel has been canceled and Canada's border closure has effectively halted traffic from the Lower 48.
Every major industry was down from last June. Leisure and hospitality lost the most, numerically and in percent terms, dropping 32.4 percent from June 2019 (-13,800). Health care was down 2,500 jobs. The transportation, warehousing and utilities sector's job loss (-3,100) was mainly transportation. Retail employment was down 2,500, or 6.8 percent. Construction employment fell by 2,100. Local government, which includes public schools, lost 4,100 jobs. State government employment fell by 1,100, with losses in general government and the University of Alaska. Federal government employment increased by 100.
Across the state, not-seasonally adjusted unemployment rates remained high, except in Southwest where the start of the salmon season drove down rates in the Aleutians and Bristol Bay. Anchorage's rate was 12.0 percent, Fairbanks' was 10.4 percent and Juneau's was 11.6 percent.
View data tables and charts (PDF)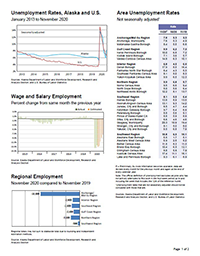 ###