July jobs down 11.2 percent from last July
August 21, 2020
No. 20-30
JUNEAU, Alaska — Alaska's July job count was down 11.2 percent from last July, a loss of 39,900 jobs. The state's seasonally adjusted unemployment rate declined to 11.6 percent from 12.4 percent in June. The comparable U.S rate decreased from 11.1 percent to 10.2 percent.
COVID-19 continued to disrupt Alaska's economy. The largest job losses were in Anchorage, but the Southeast, Gulf Coast and Northern regions lost higher percentages of their jobs. Southeast was hit hardest due to canceled cruise-based tourism, reduced ferry schedules and Canadian border restrictions.
Every major sector had fewer jobs than last July, with the exception of the federal government, which was up 200. Leisure and hospitality lost the most, numerically and in percent terms, dropping 32.3 percent from July 2019 (-14,300). The 12.4 percent job loss in the transportation, warehousing and utilities sector was mainly transportation jobs, including commercial air travel and scenic and sightseeing transportation tied to summer tourism. Construction employment was down 11.6 percent and retail jobs down 6.7 percent. Health care jobs were down 5.2 percent from last July, mainly in providers' offices due to delayed or canceled nonemergency services. Local government, which includes K-12 public schools, cut employment by 7.8 percent and state government, which includes the University of Alaska, was down 5.2 percent.
These data don't capture the self-employed, including many small business owners and Alaska's large commercial fishing fleet, but they warrant mention here because some have been hit especially hard by the pandemic. Temporary federal and state assistance — including supplemental unemployment insurance for the self-employed — has mitigated some of the declines. However, there's little doubt that losses among the self-employed are also affecting the health of Alaska's economy.
Across the state, not-seasonally adjusted unemployment rates remained well above year-ago levels. Rates were relatively low only in the Aleutians and Bristol Bay, where the salmon season peaked. Anchorage's rate was 10.8 percent, Fairbanks' was 8.9 percent and Juneau's was 10.2 percent — all down slightly from last month, but far above year-ago levels.
View data tables and charts (PDF)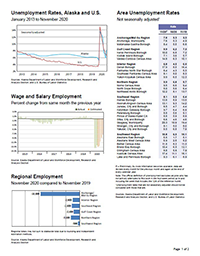 ###