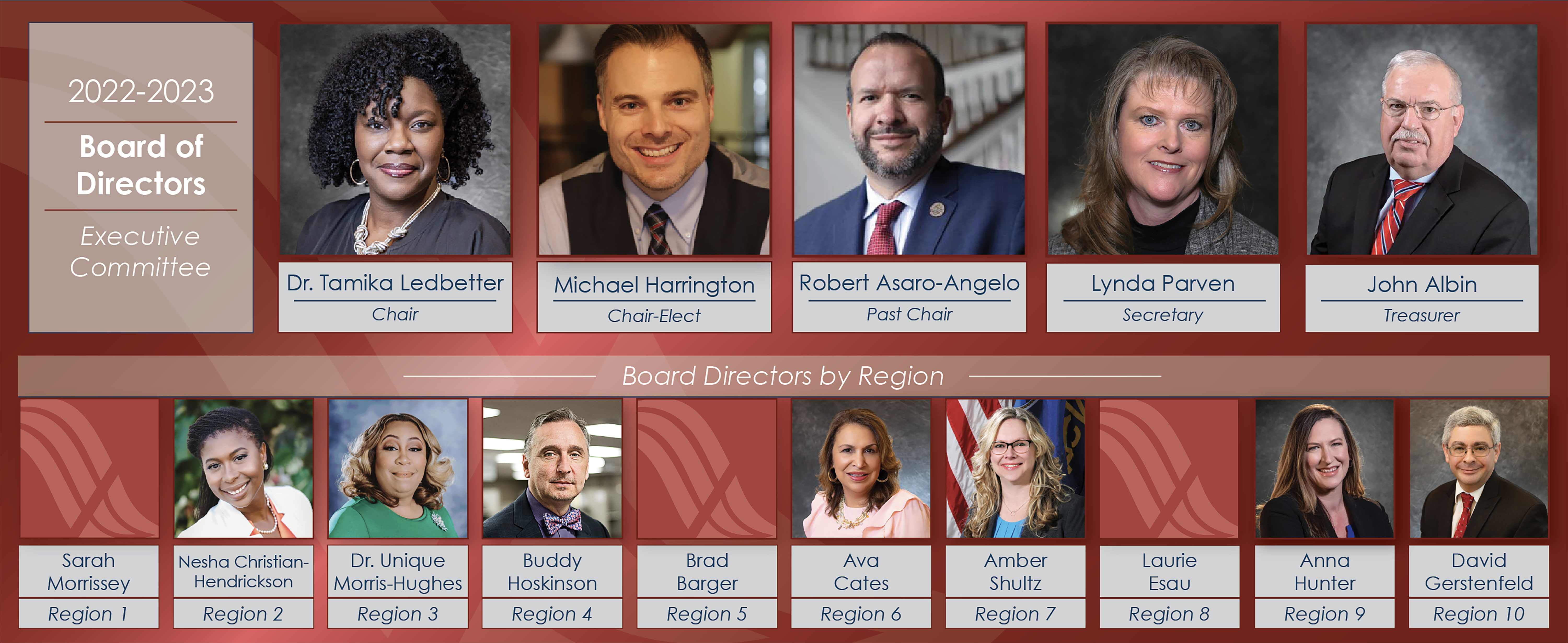 NASWA announces 2023 association year Board of Directors
Oct. 3, 2022
No. 22-15
WASHINGTON – The National Association of State Workforce Agencies (NASWA) announced the election of the 2023 association year Board of Directors. NASWA membership, which represents state and U.S. territory workforce agencies nationwide, selected 15 new board members and 10 alternate members to represent its regions, including a five-member executive committee. The board's duties are to direct the business of the association.
"I'm excited to work with all of these outstanding professionals in their newly-elected roles to guide NASWA forward during the upcoming year," said NASWA President and CEO Scott B. Sanders. "NASWA Board members spearhead the workforce development efforts across the country and their talent and expertise in this arena are second to none."
Executive Committee Members of the Board:
Chair – Dr. Tamika Ledbetter, Commissioner, Alaska Department of Labor and Workforce Development
Chair-Elect – Michael Harrington, Commissioner, Vermont Department of Labor
Past Chair – Robert Asaro-Angelo, Commissioner, New Jersey Department of Labor and Workforce Development
Secretary – Lynda Parven, Administrator, Employment Security Division, Nevada Department of Employment, Training and Rehabilitation
Treasurer – John Albin, Commissioner, Nebraska Department of Labor
Board of Directors, listed by NASWA region:
Region 1: Director – Sarah Morrissey, Director, Operations and Employment Services Bureau, New Hampshire Employment Security
Alternate – Laura Fortman, Commissioner, Maine Department of Labor
Region 2: Director – Nesha Christian-Hendrickson, Assistant Commissioner/Legal Counsel, U.S. Virgin Islands Department of Labor
Alternate – Daryle Dudzinski, Deputy Commissioner, Connecticut Department of Labor
Region 3: Director – Dr. Unique Morris-Hughes, Director, Washington D.C. Department of Employment Services
Alternate – William Walton, Deputy Commissioner for Unemployment Insurance, Virginia Employment Commission
Region 4: Director – Buddy Hoskinson, Executive Director, Kentucky Labor Cabinet
Alternate – Adrienne Johnston, Deputy Secretary, Workforce Services, Florida Department of Economic Opportunity
Region 5: Director – Brad Barger, Assistant Director, Ohio Department of Job and Family Services
Alternate – Stephanie Beckhorn, Director, Employment and Training, Michigan Department of Labor and Economic Opportunity
Region 6: Director – Ava Cates, Secretary, Louisiana Workforce Commission
Alternate – Ed Serna, Executive Director, Texas Workforce Commission
Region 7: Director – Amber Shultz, Secretary, Kansas Department of Labor
Alternate – Dr. Mardy Leathers, Director, Missouri Department of Higher Education and Workforce Development
Region 8: Director – Laurie Esau, Commissioner, Montana Department of Labor and Industry
Alternate – Joe Barela, Executive Director, Colorado Department of Labor and Employment
Region 9: Director – Anna Hunter, Assistant Director, Arizona Department of Economic Security
Alternate – Anne Perreira-Eustaquio, Director, Hawaii Department of Labor and Industrial Relations
Region 10: Director – David Gerstenfeld, Acting Executive Director, Oregon Employment Department
Alternate – Cami Feek, Commissioner, Washington State Employment Security Department
Incoming executive committee and board members assumed their respective posts upon election at the Annual Membership Meeting during the 2022 NASWA Summit, Sept. 21, 2022. All positions serve a one-year term, except the treasurer, who serves two years.
For more information on the 2022 NASWA Summit, visit https://www.naswa.org/conferences/2022-naswa-summit.