2023 Alaska Economic Trends
Alaska Economic Trends is a monthly magazine that covers a range of economic topics.
Click here to sign up for a free electronic subscription.

Click here for a paid print subscription.
Alaska Economic Trends are searchable from 1978 to the present using the Trends search page. The search can include any combination of the title or subtitle, date or date range, author, or full text.
March 2023
The Decline in Working-Age Alaskans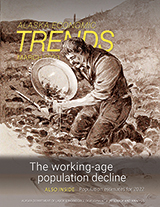 The number of people aged 18 to 64 peaked in 2013
Also inside:
Population estimates for 2022
February 2023
The High School Class of 2005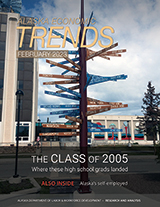 We check in again on where these students went and where they ended up
Also inside:
Alaska's self-employed workers
January 2023
Alaska's Employment Forecast for 2023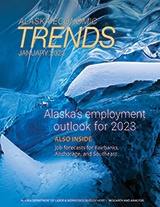 Forecasts for Anchorage, Fairbanks, Southeast, and statewide