Picture Your Future: Exploring Your Transition Goals
We have put together two dynamic resources to help students and teachers in planning a student's transition from high school to adult life. It is intended to be useful for all Alaskan students, both rural and urban, and can be implemented in parts of the state with students who have little or no access to the internet.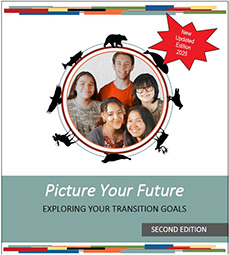 For students: Picture Your Future: Exploring Your Transition Goals was designed for Alaskan students, urban and rural, to help them start to imagine what their future could be. Through engaging activities, inventories and learning stories students have the opportunity to discover their own unique strengths and interests and how they can use that knowledge to make decisions for their life after high school.
Check out the Student Workbook HERE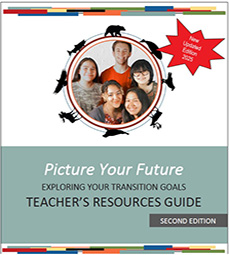 For teachers: Picture Your Future: Exploring Your Transition Goals student workbook was designed to help you gather the information you need from your students for good transition planning. The companion Teacher's Resource Guide provides you with additional resources to assist you in developing IEP objectives and classroom activities.
Check out the Teacher's Resource Guide HERE
The student workbook is designed to be printed, in sections or as a whole, for a student to work through. Depending on your specific situation and the level of your students, the workbook can be facilitated in a group setting, one-on-one, or even over the phone.