Nelson San Juan, Deputy Commissioner
Email Deputy Commissioner San Juan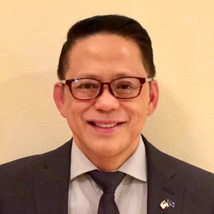 Deputy Commissioner Nelson San Juan serves as a deputy commissioner of the Alaska Department of Labor and Workforce Development. San Juan has spent 26 years working for the State of Alaska, 23 of them with the Department prior to his role as deputy. He has dedicated his career to Alaskan workers, employers, and the business community.
Prior to serving as Deputy Commissioner, San Juan acted as the principal liaison between the Department and Alaska's Seafood Industry. He managed and conducted numerous special employment and orientation events to recruit and fill thousands of job openings annually. He travelled and worked extensively with rural communities from Dutch Harbor and Nunam Iqua, to King Salmon, Bethel, Atka, Cordova, Togiak, and Emmonak. He met with a wide spectrum of agencies, groups, and organizations to promote Alaska Hire and the Department's workforce development programs. During this period, San Juan developed a network of contacts and resources in Alaska, Washington, California, Oregon, Nevada, Arizona and other states.
San Juan has a B.A. in Economics from Adamson University in Manila (Philippines). He performs volunteer work for over ten local non-profit and community groups, and enjoys traveling and hiking. He lives in Anchorage with his wife, Bella.