Cathy Muñoz, Deputy Commissioner
Email Deputy Commissioner Muñoz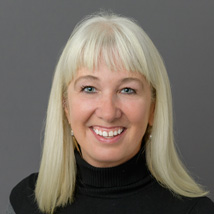 Deputy Commissioner Cathy Muñoz serves as a deputy commissioner of the Alaska Department of Labor and Workforce Development. Muñoz is a life-long Alaskan, small business owner, and the mother of two. She served on the City and Borough of Juneau Assembly and as a legislator in the Alaska House of Representatives.

Workforce development has been a key priority throughout Muñoz's public service career. In the Legislature, she served as chairwoman of the Community and Regional Affairs Committee and was a member of the House Finance Committee. She worked to secure funding for the University of Alaska and Southeast Mine Training program, and to bring Alaska's first mining simulator to the university. She also sponsored a provision in state law that gives companies a tax credit for contributions made to vocational education programs.

Muñoz holds a Bachelor of Arts in Political Science from the University of the Pacific in Stockton, California. She serves as the chair of the Salvation Army Advisory Board.