The State Vocational Rehabilitation Committee
Mission: The State Vocational Rehabilitation Committee (SVRC) works with the Division of Vocational Rehabilitation (DVR) to help Alaskans with disabilities achieve quality employment outcomes.
Chairperson: Travis Noah, consumer seat.
Next Meeting Dates:
Tell Us About Your Experience Working with DVR
There are various ways you can tell the committee about your experience with DVR.
Email your testimony to dol.svrc@alaska.gov at any time, and include your permission to read aloud at the SVRC quarterly public meeting. It will be read at the next SVRC quarterly meeting.

Mail a letter with your testimony, and include your permission to read aloud at the SVRC quartely public meeting to:


SVRC Chairperson
PO Box 115516
Juneau, AK 99811-5516

Your letter will be read atthe SVRC's next quarterly meeting.

Share it at one of the SVRC's quarterly meetings. See the meeting calendar on this website for meeting dates. Information on how to join the meeting and share your public testimony will be posted at least 30 days before each meeting.
The testimony is used, along with consumer satisfaction surveys and other data, to measure the quality and effectiveness of the program in helping people with disabilities who want to find and keep a good job. Testimony is recorded in public records.
Tips on Providing Public Testimony
State your name and where you are from.
Share your personal experiences in receiving services from DVR or other agencies, how these have affected you in your life and how they helped or did not help you.
You can also share your perspective on other issues affecting people with disabilities that concern you, especially as it pertains to employment.
Share whatever information you are comfortable sharing with the SVRC.
2022 Annual Report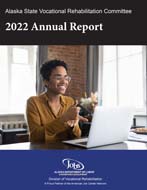 Consumer Satisfaction Surveys